What Hydraulic Boat Helm Pump Do I Need
A hydraulic helm pump is the brains of what drives hydraulic fluids through the hydraulic boat steering system, causing the hydraulic cylinder at the engine to move starboard to port vise versa. It is important to note that an incorrect match of the helm can cause your hydraulic steering to work improperly and can cause a safety issue when steering a boat. When replacing your current helm pump, it should be matched to the exact make and model that you are currently using. If this is a new install then the best action is to purchase a complete system that matches helm pump to hydraulic boat steering cylinder based on engine hp. This will ensure you have the correct helm installed for your system.
Helm pumps are not always the same. There are several versions to choose from. Starting with displacement and mounting options. Helms come based on the way they are mounted to your helm area (dash) of the boat. We have an Intermediate, front mount, rear mount and last is the tilt mount version. So, you will need to determine what version to use based on your helm (dash) configuration that will work best for you. If you are replacing, then you should stick with what is in place now, for correct install. If you are upgrading from a mechanical to hydraulic boat steering or replacing from another brand of hydraulic steering, you may need to use a separate mounting bezel that is offered, to provide mounting ease with an existing cut-out from the old helm.

Lets look at the four different mounting configurations available, starting with the Intermediate Mount.
The Intermediate mount helm is similar to the front mount helm in regards to installation. It allows easy install and access with initial bleeding and with maintaining the system over time. This Intermediate mount helm is only offered with one displacement (revolutions) based on engine size of up to 115 hp single outboard. The diagram below shows the mounting configuration as well as bleed location (fill cap) of the helm. You can see how it mounts on the front side of the helm (dash area). There are no bezel's offered for mounting but, includes built in mounting flange.

UP18 Hydraulic Steering Pump Intermediate Mount
This helm is specifically made for single outboard engines up to 115 hp. It is only offered as a front mount version and only works with the UC81-OBF hydraulic steering cylinder. This helm comes standard with the Gotech™ hydraulic boat steering kit and does not have an additional bezel kit for mounting options. This is a great replacement for a cable steering upgrade to hydraulic steering kit.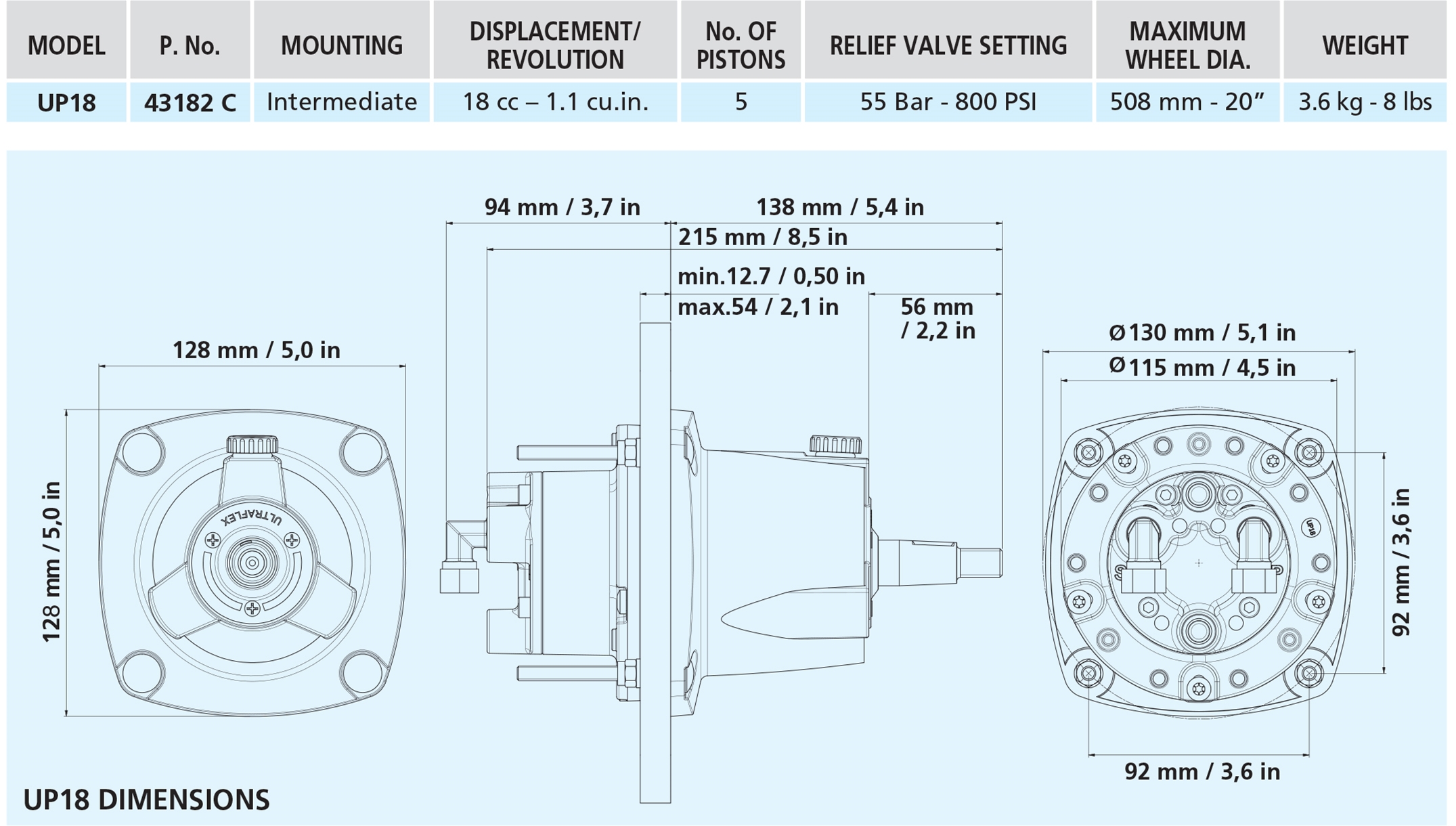 The next version is the front mount helm, but also comes in a rear and tilt mount as well. But, lets look at the front mount first. The front mount helm will always have easy installation, as well as easy access for fully bleeding the system and maintaining the system over time. There are multiple bezel kits offered for mounting, including the rear and tilt versions. Front mount helms offer several different displacements thus, offering more options for hp rated engines and engine applications including outboard, sterndrive and inboard. The UP-F are the most common application you find in the recreational boats on the market today.

UP-F Series Hydraulic Front Mount Helm Pumps



The UP-F series helm is offered multiple displacements. The front mount version allows easy access with initial bleeding and with maintaining the system over time. The diagrams below give you the specs on all of the UP-F helms available.to you for either replacing, upgrading or new installations. The diagrams below only offer basic spec's. Please contact our sales department or consult with a Certified Marine Technician for correct application fit and install for your boat. These diagrams are only for general reference.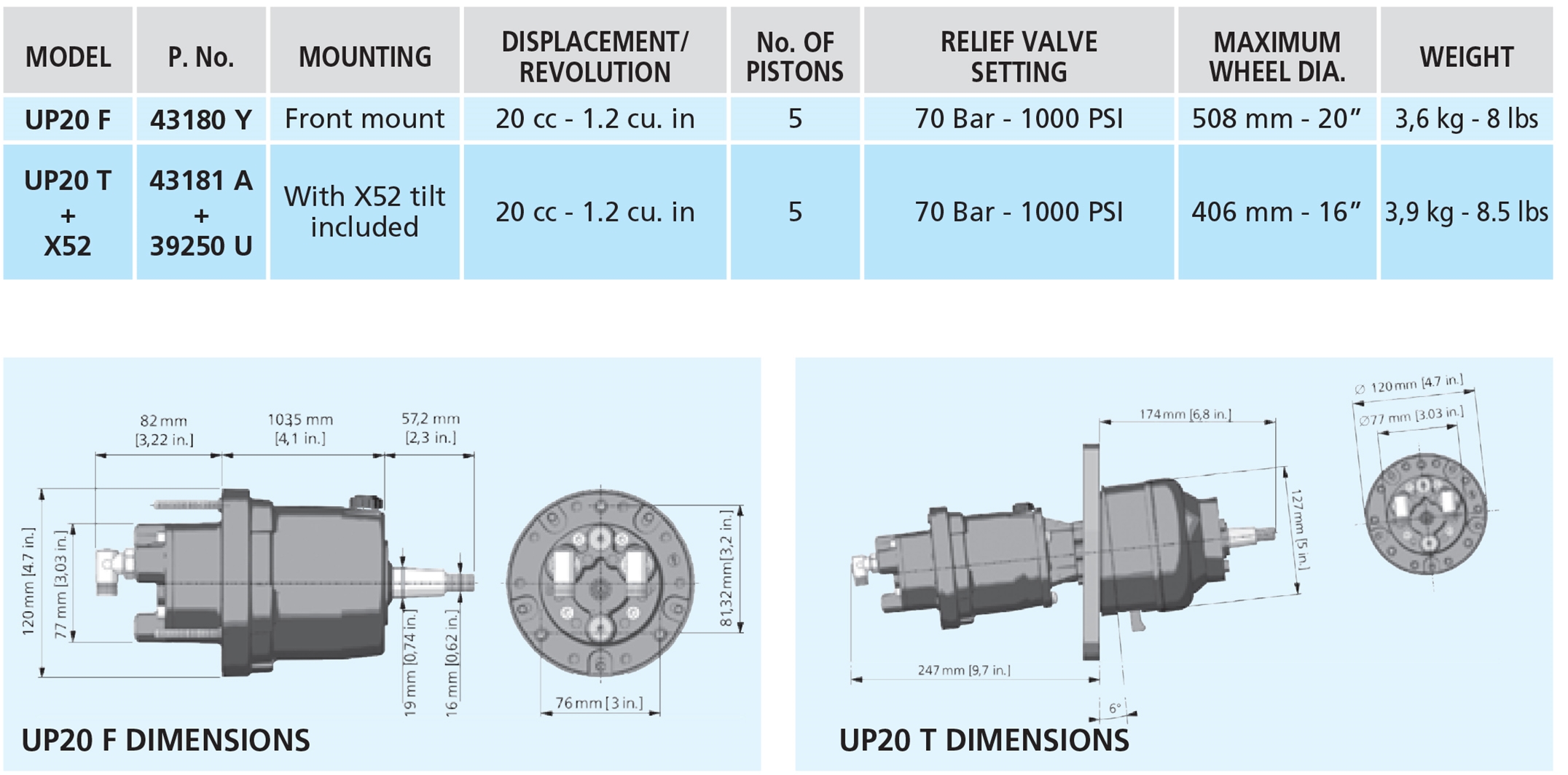 UP-R Series Hydraulic Rear Mount Helm Pumps
The next version is the rear mount helm. The rear mount helm's have a little more prep for installation, as well as less access for fully bleeding the system and maintaining the system over time. They will always require a fill kit unless you have easy access behind the helm area (dash) for access to the fill plug. As you can see from the diagram below,. they mount flush to your exterior helm area and are offered in larger size displacements. However, they do come in a compact size, but still require extra mounting room behind helm area (dash) of boat. UP-R series are the same pump as the UP-F series but, have a rear mounting application vs front mount and are only offered in four different displacements vs five..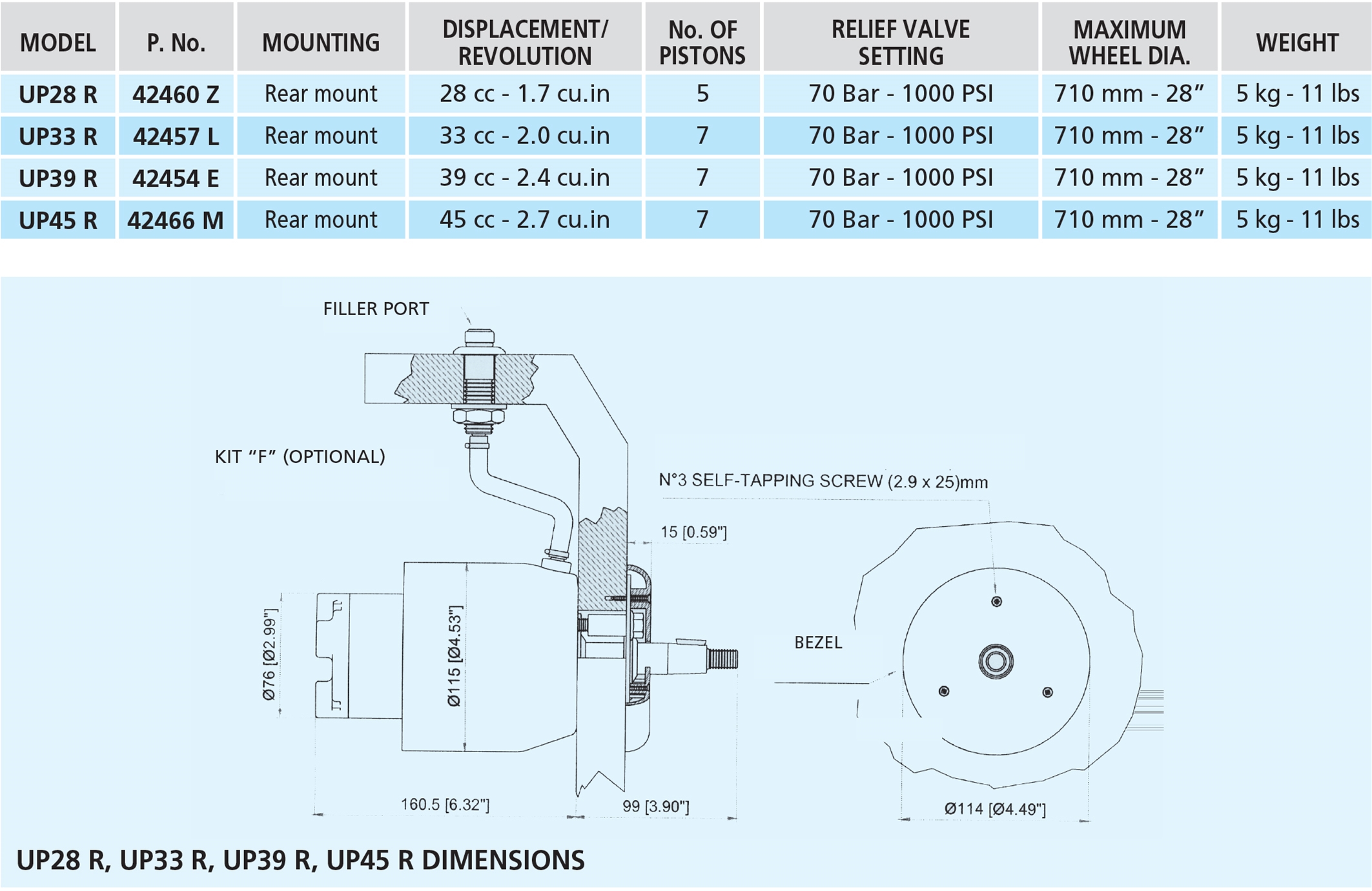 UP-T Series Hydraulic Tilt Mount Helm Pumps
The last of our helm pumps are the UP-T series tilt helm pumps. The UP-T helm pump cannot be used with a standard rear mount pump. The UP-T series pumps come complete with the X52 series tilt helm mechanism. Install is a little more difficult and should be scrutinized more based on boat helm application and needs. The UP-T series helm does offer more comfort to the boat operator, while still allowing for steering wheel adjustment up to 48-degree's. Once again, access to the fill plug is behind helm area (dash) so, access usually requires a remote fill kit when installing. The tilt helm is offered in multiple displacement. The cost is more but, the benefits of the UP-T series out way the cost. UP-T series are the same pump's as the UP-F series but, have a rear mounting application vs front mount.