Hyco Hydraulic Boat Steering Kit For Outboards Up To150 HP

The Hyco package which has a clever mounting system that allows you to install a front mount outboard cylinder without having to remove the engine. With the split tilt tube design of the Hyco, you can simply cut the old mechanical steering cable, insert the two tilt tube pieces independently and pin them to complete the hydraulic cylinder installation.The cylinder is suspended in front of the engine and oil directed from the hydraulic helm moves the engine correspondent to the direction of the steering wheel. Suitable up to 150 hp outboard installations.
The Hyco and Hytech hydraulic boat steering kit comes in several versions based on your needs. The different versions include, basic kit, basic kit with hose, basic kit with tilt and hose and 2 versions based on make, model and year of your engine for the correct hydraulic steering cylinder. The hyco hytech hydraulic steering kits are so robust in quality and are only a few dollars more than a mechanical system. This by far is the best hydraulic steering for boats. We have listed all of the versions of this kit below. Go here and you can check to see what engine version is required for your hydraulic boat steering.

For outboard engines up to 150 hp HYCO package kit contains: UP20 F Front mount helm pump. UC94-OBF Front mount outboard cylinder Specify engine type when ordering. OIL 15 Hydraulic oil - 2 quarts. KIT OB OPTIONAL Hose kit with pre-assembled fittings. Specify length required when ordering WARNING: Depending on the applications, the UC94-OBF is available in 2 versions: UC94-OBF/1 and UC94-OBF/3. UC94-OBF/1 cylinder is not suitable for HONDA® BF115 and BF130 engines and Mercury® Optimax™ 75, 90, 115. For these engines UC94-OBF/3 is available.
The Hyco 1.0T With Tilt Hydraulic Steering Kit is all you need for a complete steering system. This system is used on all engines up to 150HP or less. If engine H/P exceeds 150 then the Protech packaged system must be used. This packaged Kit includes: 1-UP20T Tilt Helm Pump. UC 94-OBF/1 Front mount Hydraulic Cylinder. 2 quarts Oil-15 Hydraulic Oil. The Pre-made Hose Kit 2' to 30' ft. length is not included. Installation and Instructions manual included. Steering wheel not included. Please note: There are two Cylinders offered, Please see the following How to Guide. The UC94-OBF/3 model is for Honda BF115 and BF130 engines and Mercury Optimax 75, 90, 115 HP engines only and the UC94-OBF/1 is used on all other O/B models. Cylinders offered, Please see the following How to Guide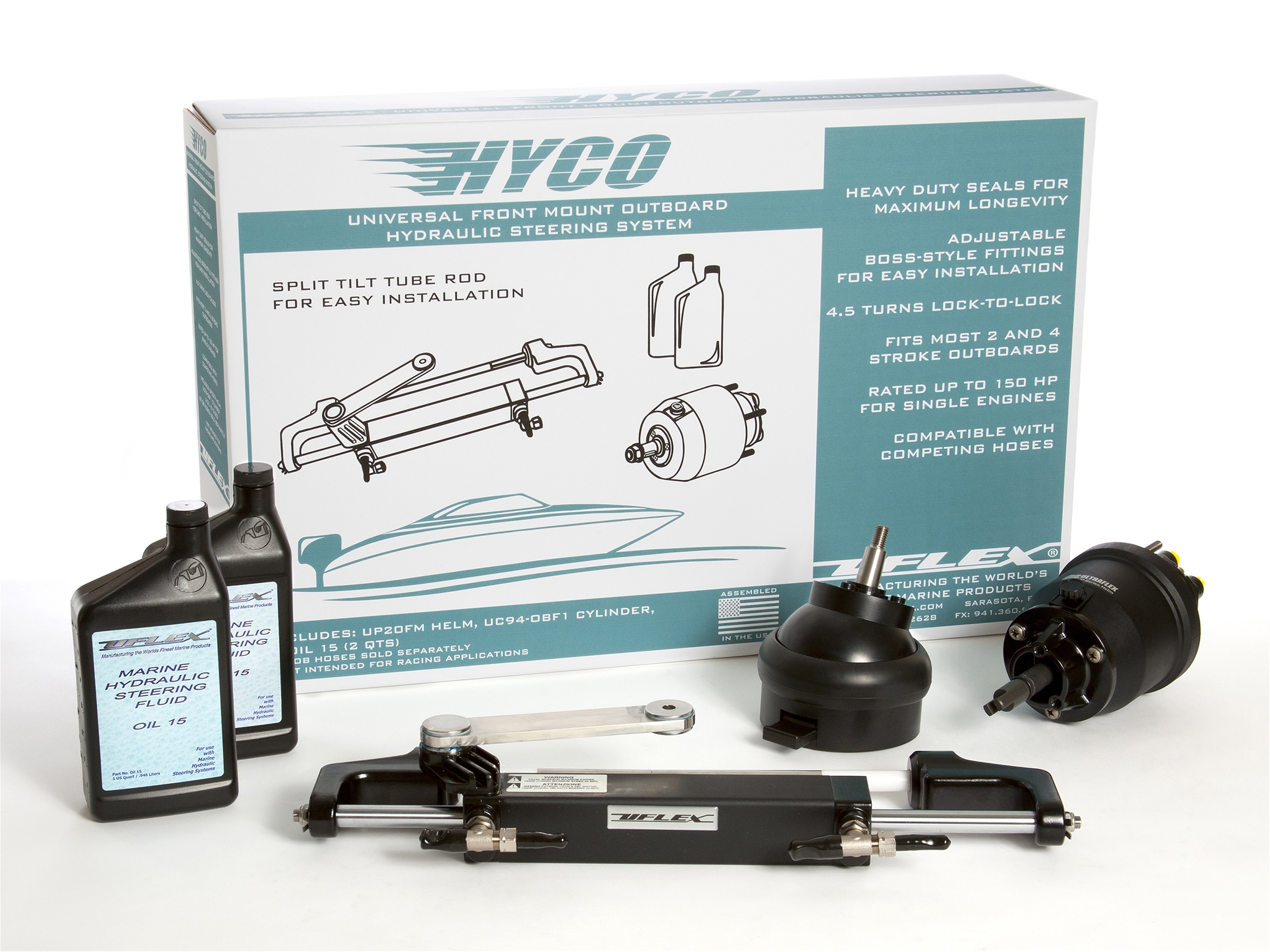 The Hyco 3.0 Hydraulic Steering Kit is all you need for a complete steering system. This system is used on all engines up to 150HP or less. If engine H/P exceeds 150 then the Protech packaged system must be used. This packaged Kit includes: 1-UP20F Helm Pump. UC 94-OBF/3 Front mount Hydraulic cylinder. 2 quarts Oil-15 Hydraulic Oil. The Pre-made Hose Kit 2' to 30' ft. length is not included. Installation and Instructions manual included. Steering wheel not included. Please note: There are two Cylinders offered, Please see the following How to Guide. The UC94-OBF/3 model is for Honda BF115 and BF130 engines and Mercury Optimax 75, 90, 115 HP engines only and the UC94-OBF/1 is used on all other O/B models. Cylinders offered, Please see the following How to Guide
The Hyco 3.0T With Tilt Hydraulic Steering Kit is all you need for a complete steering system. This system is used on all engines up to 150HP or less. If engine H/P exceeds 150 then the Protech packaged system must be used. This packaged Kit includes: 1-UP20T X52 Tilt Helm Pump. UC 94-OBF/3 Front mount Hydraulic Cylinder. 2 quarts Oil-15 Hydraulic Oil. The Pre-made Hose Kit 2' to 30' ft. length is not included. Installation and Instructions manual included. Steering wheel not included. Please note: There are two Cylinders offered, Please see the following How to Guide. The UC94-OBF/3 model is for Honda BF115 and BF130 engines and Mercury Optimax 75, 90, 115 HP engines only and the UC94-OBF/1 is used on all other O/B models. Cylinders offered, Please see the following How to Guide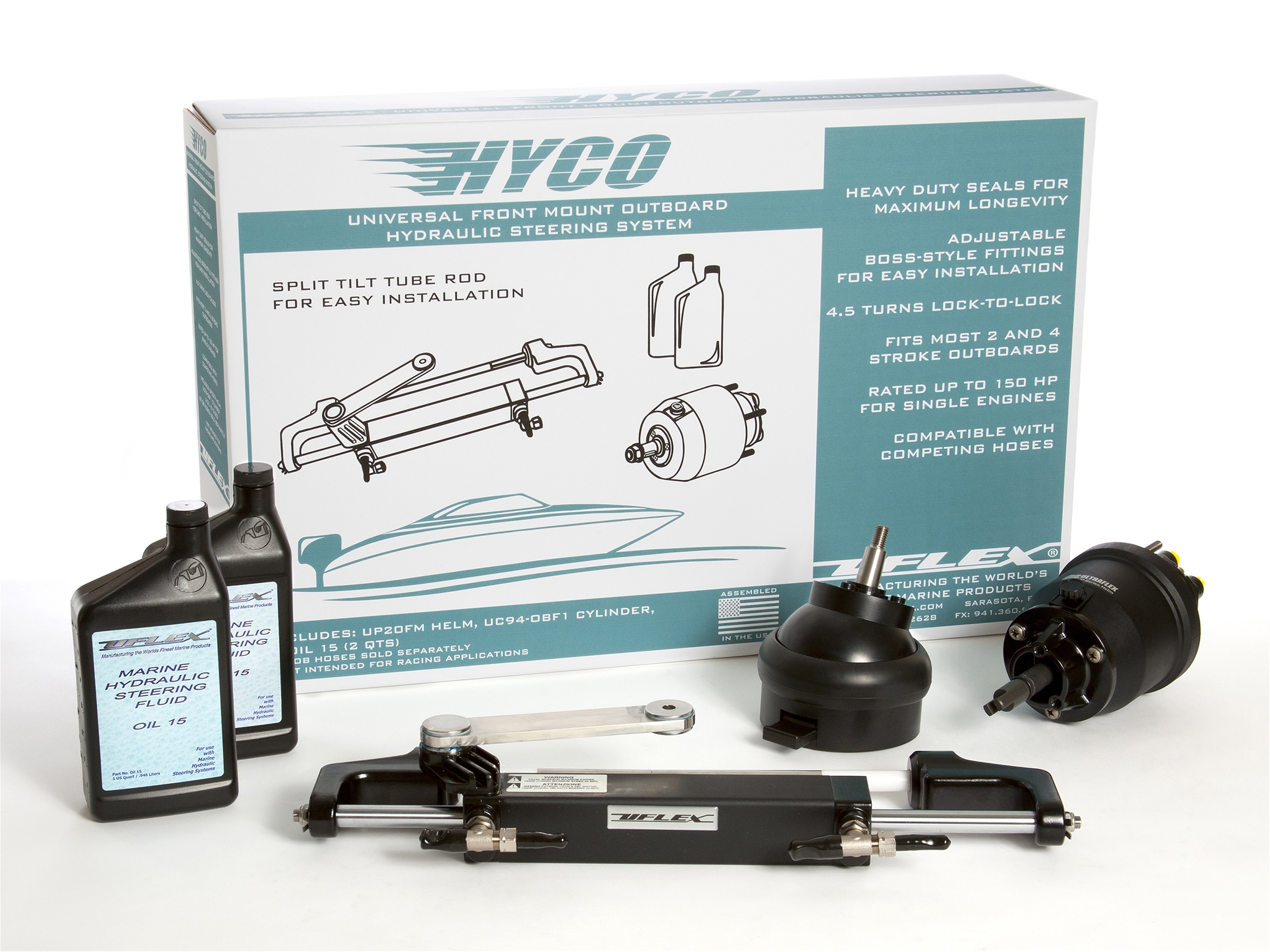 HYTECH-1 package kit contains: UP20F Front mount helm pump. UC94-OBF/1 Front mount outboard cylinder Specify engine type when ordering. OIL 15 Hydraulic oil - 2 quarts. TU95 40 ft (12,2 m) 3/8" nylon tubing. You can also still choose KIT OB OPTIONAL Hose kit with pre-assembled fittings Specify length required when ordering WARNING: Depending on the applications, the UC94-OBF is available in 2 versions: UC94-OBF/1 and UC94-OBF/3. UC94-OBF/1 cylinder is not suitable for HONDA® BF115 and BF130 engines and Mercury® OptimaxTM 75, 90, 115. For these engines UC94-OBF/3 is available. There are two Cylinders offered, Please see the following How to Guide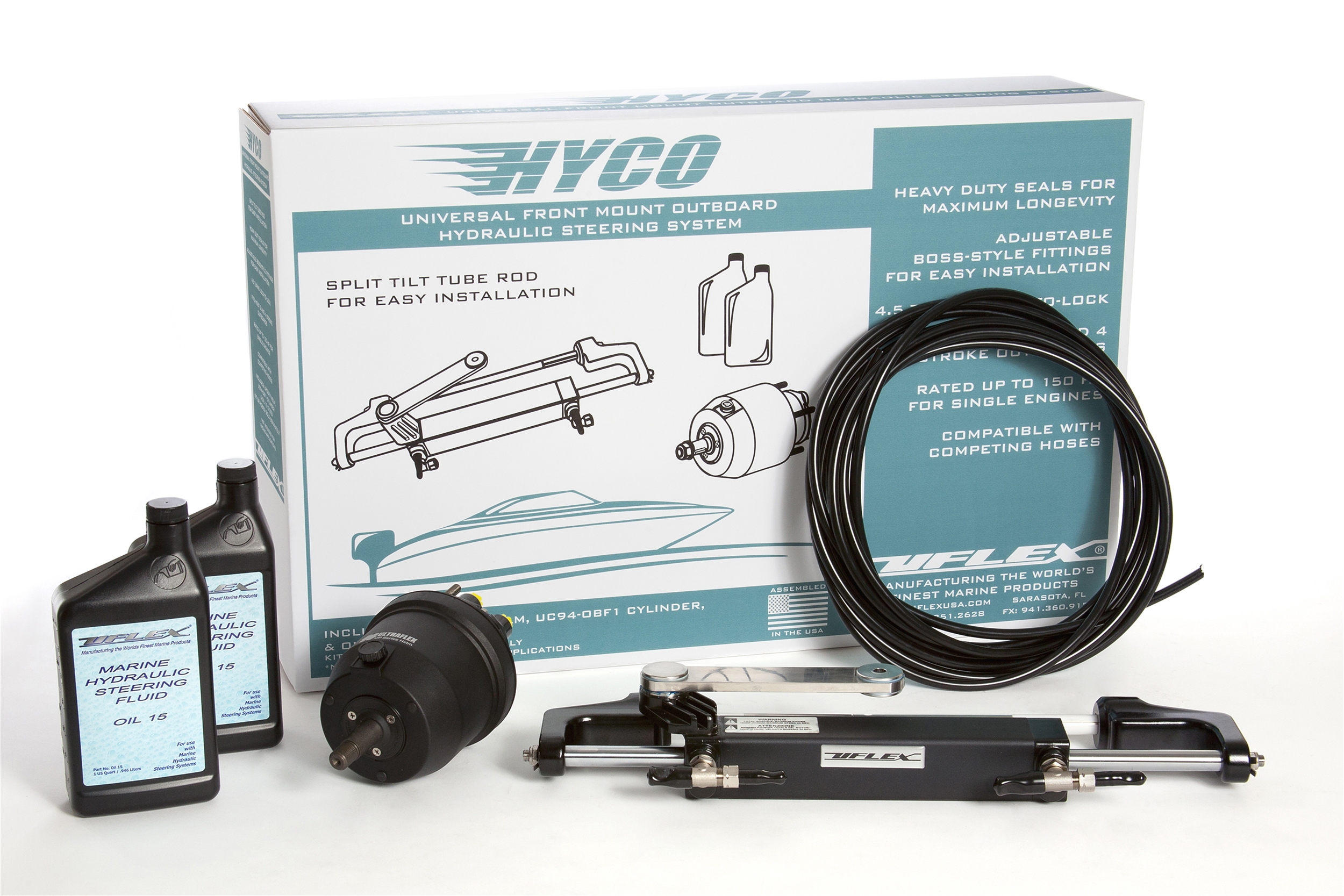 The HYTECH-3 Hydraulic Steering Kit is all you need for a complete steering system. This system is used on all engines up to 150HP or less. If engine H/P exceeds 150 then the Protech packaged system must be used. This packaged Kit includes: 1-UP20F Helm Pump. UC 94-OBF/3 Front mount Hydraulic cylinder. 2 quarts Oil-15 Hydraulic Oil, TU95 40 ft (12,2 m) 3/8" nylon tubing. You can also still choose the Pre-made Hose Kit 2' to 30' ft. length is not included. Installation and Instructions manual included. Steering wheel not included. Please note: There are two Cylinders offered, Please see the following How to Guide. The UC94-OBF/3 model is for Honda BF115 and BF130 engines and Mercury Optimax 75, 90, 115 HP engines only and the UC94-OBF/1 is used on all other O/B models. Cylinders offered, Please see the following How to Guide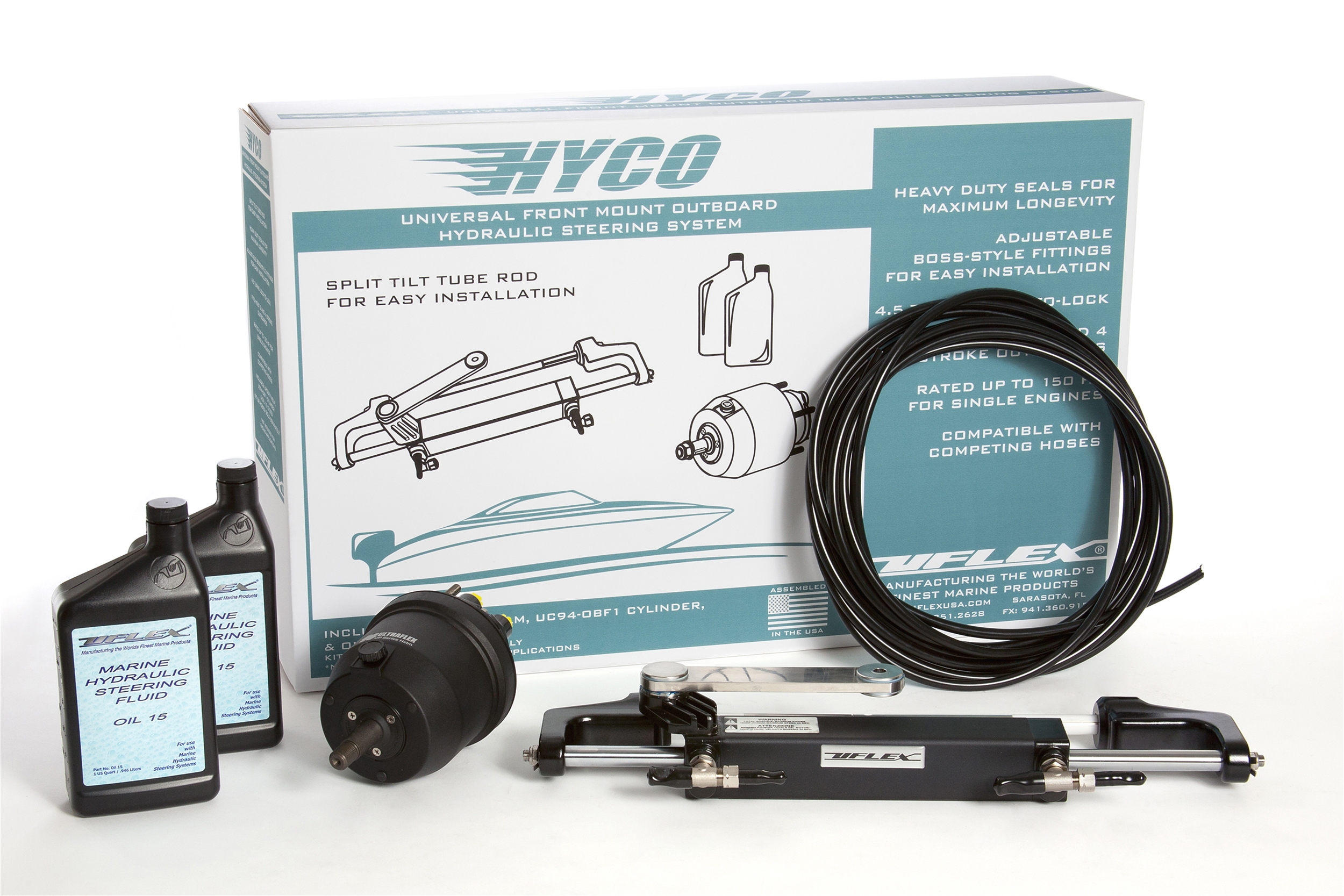 The HYTECH 3.0T With Tilt Hydraulic Steering Kit is all you need for a complete steering system. This system is used on all engines up to 150HP or less. If engine H/P exceeds 150 then the Protech packaged system must be used. This packaged Kit includes: 1-UP20T X52 Tilt Helm Pump. UC 94-OBF/3 Front mount Hydraulic Cylinder. 2 quarts Oil-15 Hydraulic Oil, TU95 40 ft (12,2 m) 3/8" nylon tubing. You can also still choose the Pre-made Hose Kit 2' to 30' ft. length is not included. Installation and Instructions manual included. Steering wheel not included. Please note: There are two Cylinders offered, Please see the following How to Guide. The UC94-OBF/3 model is for Honda BF115 and BF130 engines and Mercury Optimax 75, 90, 115 HP engines only and the UC94-OBF/1 is used on all other O/B models. Cylinders offered, Please see the following How to Guide